Gisela Glaser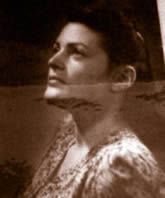 Brief History
Born in Tarnow, Poland in 1924, Gisela Glaser was one of four children. Her father died shortly before Germany invaded Treblinka, Poland in 1939, and the rest of her immediate and extended family perished at the hands of the Nazis during the War. Glaser endured ghetto life, imprisonment at Plaszow, Auschwitz-Birkenau, Bergen Belsen, Mauthausen, and Venusburg. She survived these camps as a slave laborer working as a seamstress, a salt-miner, and an airplane-cleaner. After being liberated, Glaser immigrated to the United States and settled in the Bronx.
Glaser's Memoirs
"Instead of a miracle, in June 1942 in my town the Germans carried out the most extensive liquidation campaign, during a 7 day period.  Every morning during the deportation, my little brother climbed up on the old tree in our back yard.  He was 7 years old and had no life permit.  Evenings after he came down from his hiding place he begged us to save him, he explained to us, "how much he wants to live, to grow up to be a man."
Stay in Touch with HGI on Social Media!
Previous events
Join us for a week of events focused on refugee and migrant advocacy. Stay tuned for more information.
When the Allied Forces advanced on Germany at the end of the Second World War, few were prepared to cope with the shock and horror they encountered during the liberation of Nazi concentration camps. This lecture examines firsthand accounts of Allied military personnel who responded to the liberation and the profound effects it had on them.
Dr. Mark Celinscak is the Louis and Frances Blumkin Professor of Holocaust and Genocide Studies and the Executive Director of the Sam and Frances Fried Holocaust and Genocide Academy at the University of Nebraska at Omaha. He is a historian of twentieth century Britain and Europe, specializing in war, Holocaust, and genocide studies. He is the author of Distance from the Belsen Heap: Allied Forces and the Liberation of a Nazi Concentration Camp, winner of a Vine Award for Non-Fiction, andKingdom of Night: Witnesses to the Holocaust, winner of a Canadian Jewish Literary Award for Holocaust literature. Dr. Celinscak currently serves as co-chair of the Consortium of Higher Education Centers for Holocaust, Genocide, and Human Rights Studies.