Clara Knopfler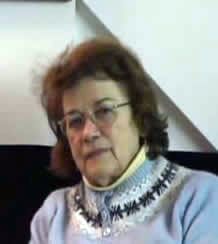 Brief History
Clara Knopfler was born January 19, 1927 in Cehul-Silvaniei, Transylvania, a small town in northern Romania. She and her brother Zoltan were raised by their mother, Pepi, and father, Joseph. When Ms. Knopfler was 13, the Nazis invaded and she was denied public schooling, but fortunately, local scholars and the Hungarian government helped to set up a private school for Jewish children. Ms. Knopfler and her family experienced the steady growth of anti-semitism towards Jewish Transylvanians between 1940 to 1944. In 1944, they were forced into a ghetto, leaving behind all of their possesions. That June her family was transported from the ghetto to Auschwitz, where she and her mother were separated from her father and brother. But after eight days in Auschwitz, Ms. Knopfler and her mother were selected to be factory workers and were transported to a factory in the town of Riga. Their time at the factory was followed by six months digging trenches in East Prussia. Throughout the experience, Mrs. Knopfler and her mother managed to endure the treatment and survive the horrible conditions of the work camps. As Russian forces advanced, the Nazis sent the workers on a death march, and then abandoned the weak, starved workers on a rural farm. Though it took them three months, Ms. Knopfler and her mother managed to walk home to Cehul-Silvaniei. Her mother found work at a hardware store, and Ms. Knopfler took a job at the town hall while she finished her schooling. Today Ms. Knopfler talks about her experiences and is an educator and activist.
Knopfler's Videos
Stay in Touch with HGI on Social Media!
Previous events
Featured speaker: Ron Kronish & Respondents: Rabbi Bob Kaplan and Sheikh Moosa Drammeh Ron Kronish, Founding Director of the Interreligious Coordinating Council in Israel (ICCI), Ron Kronish is now an independent scholar, educator, speaker, and writer. "Profiles in Peace," his new book on Israeli and Palestinian Peacemakers. Rabbi Dr. Ron Kronish is an independent scholar, writer, blogger, lecturer, teacher and mentor. For the past several years, he has been a Library Fellow at the Van Leer Jerusalem Institute. From 1991-2015, he served as the Founder and Director of the Interreligious Coordinating Council in Israel (ICCI), which was Israel's premier interreligious institution during those years. He was educated at Brandeis University (BA), Hebrew Union College - Jewish Institute of Religion, and the Harvard Graduate School of Education. He is the editor of Coexistence and Reconciliation in Israel: Voices for Interreligious Dialogue (Paulist Press, 2015) and the author of The Other Peace Process: Interreligious Dialogue, A View from Jerusalem, (Hamilton Books 2017). He currently teaches courses about Interreligious Dialogue and Peacebuilding at the Schechter Institutes for Jewish Studies in Jerusalem, in the Department for Adult Education and for the Drew University Theological School (via zoom) in Madison, NJ.
Adi Rabinowitz Bedein, Activist & Holocaust Education. Adi is a young activist who lives in Israel and is a tour guide at Yad Vashem, she will lecture on: "Jewish Resistance During the Holocaust- True Heroism." Jewish Resistance During the Holocaust During the Holocaust the Jewish people were facing 3 options: Passivity, collaboration and Resistance. In my lecture about Resistance during the Holocaust I discuss the meaning of the Jewish resistance- a story about Strength and true Heroism which can teach us so much that is relevant for our everyday life.