Bernard Adler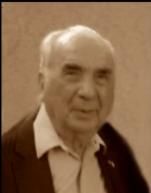 Bernard Adler was born in 1920 in Nagydobos, a country town in Hungary. After the German occupation of Hungary in the spring of 1944, he, his parents, and his eight siblings were first sent to a ghetto and then, a short time later, to Auschwitz. Bernard, separated from his family, was sent on to Mauthausen and then to Ebensee. He attributes his survival in the camps to his skills as a tailor. When American soldiers were approaching Ebensee in May, 1945, the prisoners were ordered into tunnels. However, the underground spread word that the tunnels were filled with explosives to be used by the Germans to blow up the remaining inmates. No one went into the tunnels.
Following liberation, Bernard returned to Hungary where he met his wife Irene. After his move to Israel, Irene joined him. They were married there in 1948 and had one son. After their move to New York, where Bernard resumed work as a tailor, they had a second son.
Bernard's Videos
Stay in Touch with HGI on Social Media!
Previous events
Featured speaker: Ron Kronish & Respondents: Rabbi Bob Kaplan and Sheikh Moosa Drammeh Ron Kronish, Founding Director of the Interreligious Coordinating Council in Israel (ICCI), Ron Kronish is now an independent scholar, educator, speaker, and writer. "Profiles in Peace," his new book on Israeli and Palestinian Peacemakers. Rabbi Dr. Ron Kronish is an independent scholar, writer, blogger, lecturer, teacher and mentor. For the past several years, he has been a Library Fellow at the Van Leer Jerusalem Institute. From 1991-2015, he served as the Founder and Director of the Interreligious Coordinating Council in Israel (ICCI), which was Israel's premier interreligious institution during those years. He was educated at Brandeis University (BA), Hebrew Union College - Jewish Institute of Religion, and the Harvard Graduate School of Education. He is the editor of Coexistence and Reconciliation in Israel: Voices for Interreligious Dialogue (Paulist Press, 2015) and the author of The Other Peace Process: Interreligious Dialogue, A View from Jerusalem, (Hamilton Books 2017). He currently teaches courses about Interreligious Dialogue and Peacebuilding at the Schechter Institutes for Jewish Studies in Jerusalem, in the Department for Adult Education and for the Drew University Theological School (via zoom) in Madison, NJ.
Adi Rabinowitz Bedein, Activist & Holocaust Education. Adi is a young activist who lives in Israel and is a tour guide at Yad Vashem, she will lecture on: "Jewish Resistance During the Holocaust- True Heroism." Jewish Resistance During the Holocaust During the Holocaust the Jewish people were facing 3 options: Passivity, collaboration and Resistance. In my lecture about Resistance during the Holocaust I discuss the meaning of the Jewish resistance- a story about Strength and true Heroism which can teach us so much that is relevant for our everyday life.